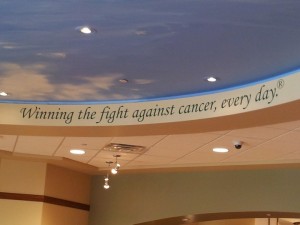 On March 22nd and 23rd, a group of influential and committed health bloggers and cancer advocates entered the doors of the Cancer Treatment Centers of America Western Regional Center in Goodyear, Arizona into a lobby literally built on hope.
We came together for their second annual CTCA AZ Blogger Summit to learn from their expert teams about their innovative approach to cancer treatment and care.  It was also an opportunity to serve as advocates by generating questions and getting the information back to our communities through social media efforts.
During our tour, we learned that patients, family members and staff had written messages of hope during construction and these were sealed beneath the lobby floor.  The entire center was built to match the feedback of patients, their families and staff.  Sitting areas in the lobby are fashioned to be like a comfortable living room, complete with a fireplace to add to the cozy feel.  While it is airy, it is also understated relative to many other treatment centers which patients reported as being cold and impersonal.
Your heart can't help but be lifted by the mantra emblazoned on the ceiling, reminding all who enter that every day progress is being made and that while everything here is built around support and a positive approach, the CTCA staff is well aware that their ultimate intention is to fight cancer and take it down…one patient, one case, one treatment at a time.
What struck me time and again over the two days of the summit was how so much consideration is given to every detail from the moment a patient walks through the door as to how they can best serve that person and their family.  They speak my language which is that the whole person needs care.  Their physical wellbeing can't be treated independently of the rest of who they are and how they experience life.
It didn't take long for the experience to hit home.  Part way through the first panel, Natural Ways to Manage Side Effects, presented by Dr. Shauna Birdsell presentation on the what ifs began.  Echoes of the past, rattling at the cage.  What if we'd come here when Gary's treatment in Los Angeles failed?  How might the outcome for him and for us been different?  Would he have survived?  Would I have had the kind of support and opportunities to practice self-care as a caregiver that would have help me to avoid the severe extended exhaustion that put such an incredible strain on both of us?
One of the gifts of living life from a coaching perspective is when my mind starts wandering down a road filled with bottomless potholes and emotional landmines, I know I have a choice…to ask what if or to focus on what now.
What now was a blank slate before I found coaching, a slate now filled with opportunities, the ability to make a difference, the chance to educate and advocate.  Life lived from a coaching perspective gives you the tools to transform what if and why into empowerment and being a contribution in the world.  It also leads to extraordinary experiences sitting in dialogue with some of the leading experts, health bloggers and patient advocates and discussing how we can collaborate to continue to improve the process and the outcomes.
Over the coming weeks, I'll be sharing more of the insights and powerful moments from the Blogger Summit.  I will also be introducing you to some of my partners in crime, their blogs, websites and resources all created to improve the quality of life for survivors and their loved ones.  And I will continue to share with you in more depth on the individual experts who populated the panels during our two days there all from a place of gratitude for the standard of care, known as the Mother Standard of Care®, being generated by Cancer Treatment Centers of America.
Maybe Gary didn't have a chance to benefit from the CTCA integrative model of care for the whole patient and their families but had we not walked the path we did and had he not lost his battle, I would not now be in a place to create a call to action to up the ante in survivorship care plans and survivorship programs.  Ultimately, it is always our choice – to stay stuck in what if or to step forward into now what in a way that once again brings meaning, purpose and passion to our lives.