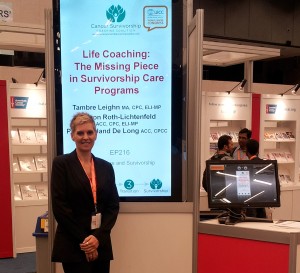 Helping pharmaceutical and healthcare organizations to support more self-advocacy by patients is one of my primary goals in the work I do. I first became an advocate for my late husband. I quickly realized that when someone experiences a health crisis, navigating the system requires a lot of skills. While I was fortunate to be able to draw on my background as a project manager in film, many people don't have this to lean on.
The concept of advocacy is woven throughout my work helping organizations to create patient engagement and education opportunities with disease-state advocacy organizations but I wasn't always aware of the important role I'd stepped into as a patient advocate.
It wasn't until I attended the UICC World Cancer Congress in August 2012 that I recognized this. I was there to present an e-poster I co-created on the impact of coaching for people facing challenges in survivorship. I was at the conference on a mission to share the profound impact and outcomes I witness in my work applying life coaching to so many of the survivorship challenges that significantly impact quality of life. It was during the interactions with cancer experts following the presentation that the light bulb came on. They were hungry for insights into how to better understand the challenges facing their patients beyond the diagnosis. In that moment, I recognized that the value I bring is a result of how I weave my efforts in advocacy with my professional training to help those in healthcare to elevate their patient interactions and provide better support for things like medication adherence.
More and more organizations are recognizing the value of helping patients to be their own advocates. Informed and educated patients who know how to scale the severity of their symptoms or ask questions about their treatment options can save valuable time and improve patient/provider communication. Patients who seek out treatment options and who learn to self-advocate to ensure their treatment plan options include the best options for them feel empowered and engaged.
There are many ways to be an advocate for yourself and for others. Many of the roles in healthcare, such as nursing, require advocating on behalf of the patient for things such as supportive care or when treatment payment by insurance providers is denied. Advocacy matters in so many ways and the role of the advocate continues to grow to the benefit of all.