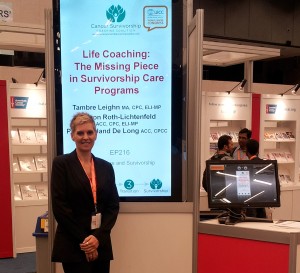 Helping my clients to generate skills and strengths in self-advocacy is a consistent part of the coaching conversation and support I provide to them in our work together.  As present as the concept of advocacy is in my daily work with cancer survivors and caregivers, I was not fully aware of how I also wear the mantel of advocacy for survivors until I attended the UICC World Cancer Congress in August 2012.
I was there to present the eposter I created with my co-founders of the Cancer Survivorship Coaching Coalition on the impact of coaching for people facing challenges in survivorship.
Being trained as a coach and living the model is the major key to my success story of overcoming grief related depression and learning to love life again after losing my husband to cancer.  I was at the conference on a mission to share the profound impact and outcomes I witness in my work applying life coaching to so many of the survivorship challenges that significantly impact quality of life.  But, I didn't see myself as an advocate…yet.
And then, along came Alison Crepinsek, the Health Promotion Manager from the Campaign to Control Cancer (C2CC) with her film crew and a request for an interview.  Happy for any opportunity to share information that might empower cancer survivors, caregivers and healthcare practitioners, I said yes.  Her team put me at ease and asked great questions.  The final one really spoke to me because it lined up exactly with how a coach looks at life…where is the opportunity to grow from this moment into a larger future vision?
To hear my response (hint: you have to watch to the end to see me), check out the finished short film…a film that helped me to expand my vision of my role beyond coach and educator into advocate.  How can taking a global perspective of the energy you invest in your career or a passion you have become a form of advocacy?
Being an advocate can add a rich layer of contribution to your life and the life of others.  There is a sense of community that is expressed in this term, speaking up to bring about positive change and growth.  That's my definition of advocacy.  What is yours and how can you take some small action steps to advocate for something you feel strongly about supporting?
Check back in for Part II on this topic where I turn the tables on the interviewer and question Alison on her role with the Campaign to Control Cancer plus more about the film and the organization.
Voices of Advocacy is a project by C2CC filmed by Alison, two students, Vivien and Theo, and videographer Eamonn O'Connell.  They interviewed over thirty delegates over two days and edited in time to screen at the final panel of the conference.