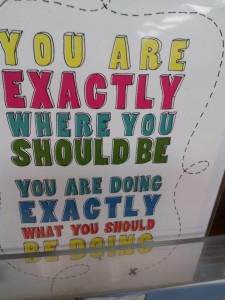 How did I get here? These days, it all makes sense. I can follow the trail of threads weaving into a pattern and I understand I am exactly where I should be. Awhile back, I would wake up some days and wonder how did I get here? So far from where I thought I would be.
Until just a few years ago, thoughts of how I might be a mother living the in the remodel of the home Gary and I designed would still come to mind. In that other life, by now Gary would have won his Academy Award. And yet, I remembered wondering where is the me in all of that. There is mother to a child, wife to a husband, art department coordinator to production designer. There was his and ours but where was me?
There was a time not long ago where, in my mind's eye, the clean lines of our modern home were erected. The soft pinks, blues and yellows of the baby's room went up on the walls. The floor to ceiling glass of the art studio reflected the blue of the lap pool. Palm trees and peace filled the yard. But there are no people in that home. Just the echo of my footsteps as I wandered through empty rooms that never came to exist.
Eventually, I found myself living a different life. A single woman who no longer referred to herself a widow. An artist living in downtown Los Angeles. Somehow I had become ceiled cement floors and exposed brick walls. I was the spiral steel staircase leading to my loft bedroom. I was an orange-red couch with a chaise lounge that accommodated my long legs when I took pauses from my life.
Raw silk drapes fluttered gently in the breeze that peeked in from my huge warehouse windows to see a place
dominated by air and space. The clutter of my past lives did not follow me there. The memories are mine to pull out when I need them but they no longer oozed from these walls as they did in the home Gary and I shared together. I was no longer dragged so often into the past.
In this space that was me, I found the dancer, the writer and the woman who was ready for more. There are stories and reasons behind the disappearance of those parts of me. They are from another time. It was only through grieving the loss of my late husband and reconnecting with my soul in order to survive that I was able to excavate them from the rubble of my life.
In this place that was me, my dancer self joined fellow salsa lovers twirling across the gray cement floors. The fingers of my writer self typed pages and pages while looking out over the sparkling lights of downtown as wailing sirens pierced the other city sounds. It was there that the sleek lines of the modern desk lamp illuminated my dreams and plans to become a life coach, moving others towards their highest potential. Inspiring them to live life passionately and on purpose even as I challenged myself to do the same.
I traveled so far to come back full circle to the place where I first began on my own, just me, here in Los Angeles. I left behind the stark stainless steel and cement of downtown and returned to the Westside surrounded by pale wood floors, a courtyard with a trickling water fountain and my orange-red couch with a chaise lounge that still accommodates my long legs when I take pauses from my life. And during those pauses, I see more and more the becoming of me as my new life unfolds.   A life that, every day, becomes more and more extraordinary. Finally.