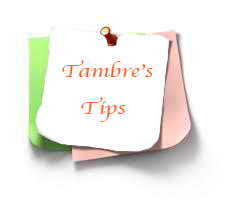 Extraordinary Living doesn't happen by accident. It requires living life by design, empowering yourself and taking action.
So I've created Tambre's Tips to help those interested in high potential living do so at their peak potential.  These quick twice monthly mini-posts will provide you with insights, resources and tools so you can live your dream.
To kick off this series…
Tip  ~ Design it, then refine it…You are the designer of your life.  It's January 2014.  No, I haven't got my dates mixed up.  I'm sending you into the future, a year from now.  Are you celebrating breakthroughs, completed goals and living in a way that inspires you and others?  If so, write out exactly what you accomplished and how you feel about all you've done.  Your action plan for 2013 is contained in this ideal vision, just waiting for you to make it happen.
If you can't yet see yourself arriving in that place by 2014, most likely you haven't yet put conscious thought into what it is that would rock your world.  What's holding you back?  What do you truly desire and deserve?  For those who can't see past where they are to where they'd like to be, consider checking out my Energy Leadership Assessment so you don't spend another year stuck in just surviving your life.