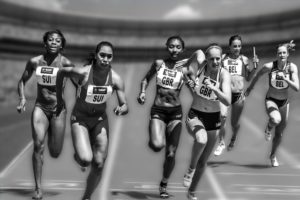 A critical part of getting through 2020 has been staying connected to a support system. It's no surprise that my friends play a key role in it. At this point in the year, we have walked countless miles together sharing our thoughts, fears, ups, and downs through our "walk 'n talk" phone calls. We've laughed at the absurdity of some things and cried at the horror of others. And, sometimes, we criticize ourselves for feeling like we're not doing enough. Does any of the following sound familiar to you…
Why can't I get motivated?
How come this project is taking me so much longer than in the past?
Where is my usual level of focus and productivity?
I do my best every day to not let 2020 stop my efforts to do good work but sometimes, 2020 wins. When that happens, I have been quick to jump to, "why can't you just get to your desk and get working?"
Recently, I started reminding myself that we are doing hard things during a very hard time. Seriously, that any of us can get up each morning, get ourselves out of bed, and get through the day is heroic. So, when I start to berate myself for not being more productive on some days, I stop and acknowledge that everything that is being accomplished is being done under some of the most challenging circumstances any of us have ever faced. Piled on top of that is the fact that we're facing the huge unknown of how much longer we must endure it all.
Now, when my friends call in tears, feeling stuck and having difficulty being as productive as they normally are, I remind them, you are doing hard things. The things that used to be easy in our careers, projects, and daily lives, are much harder now. There are massive complicating factors that have changed the way we do everything and it happened overnight. You are my hero, I tell them, because you DO keep going. Eventually, you start moving forward again out of the stuck places and the scary places, and so do I.
Today, tomorrow, and for the rest of 2020, remind yourself that no matter how much or how little you accomplish in your day, you are a hero. Remind your friends, your family, your children, your co-workers that we are doing hard things and, even at our worst, we are doing our best. We are doing hard things and we are heroes.