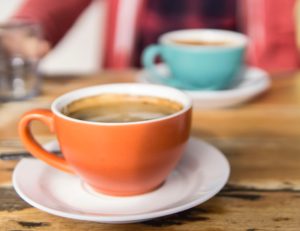 Being Comfortable is not the path to transformation but finding emotional comfort during hard times is a blessing. One of the great comforts in my story of loss was my grandmother. Grandma Izatt outlived the two great loves of her life, my grandfather and her second husband, Bill. She survived the loss of her daughter, my mother. Grandma was someone I could sit across from in comfort, hear her say, "you are a strong person, Tambre and you will get through this" and know I could because she had done so.
We did not say her loss was less because she experienced love twice. We did not say her loss was more because she lost twice. We just understood our hearts had been broken and our lives had changed forever when the men we loved were gone. She modeled courage as she went forward living independently and in her very outspoken way.
When my grandfather died, she left the home they had owned for more than fifty years. Not long after, an old family friend reached out to her. They began talking by phone. Eventually, he showed up in Hamilton to see her in person and just weeks later she was packing to head west and marry him.
My grandmother knew how to take risks and how to go on in spite of her loss. I think she is braver than I. Though I have come a long way in my healing journey, I only recently reached a place of being willing to risk my heart again. I've had the strength she saw in me to do many things…to walk away from my life in Los Angeles for four years and then return again, to become a documentary producer and fulfill that dream, to work through my anger and sadness around Gary's illness and death, to recreate a life I love and to finally pursue coaching which I believe is my life's work.
But Grandma was much stronger than I in being willing to risk her heart again. She didn't seem to way the what if's as I have. I share so many of her qualities…the high energy way she showed up in a room, her outspoken and direct manner, her creativity and her willingness to try new things. I know I also share her capacity to love deeply and to do it more than once in a lifetime.
Grandma and I can't sit as two widows across from each other and share the knowing of what that loss is like anymore. Alzheimer's stole that away from us, followed by her eventual passing. But I can still recall her reaching across from her green velvet chair, taking my hand in hers and patting it gently as she said, "Oh, my dear, I know." And she did.