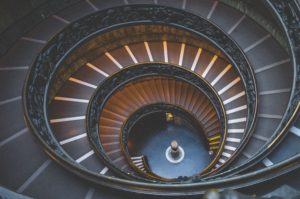 Where are you in your life right now? Going round and round or are you experiencing the gifts of The Spiral Effect?
Tomorrow is moving day…again. I have been through a lot of address changes since my late husband passed. It has taken time to settle down and find my center again.
Magically, my new home falls within the boundaries of the same zip code I landed in when I first moved to Los Angeles as a graduate student at Loyola Marymount University several life times ago. I am back in 90293 and the circular nature of this journey is not lost on me.
My first thought was, with a touch of heaviness, well, I'm back to where I started. On further reflection, I see it is more like a spiral ~ moving not around back to the same zip code but rather to the same place of starting something new and exciting from a much more elevated perspective.
I call this The Spiral Effect and in naming it so, I chuckle at the sudden realization that the image I chose for my logo is a spiral. There is a theme of convergence occurring in my life now. I finally find many parts of my past and my experiences dovetailing in the present to form a cohesive vision of the life I am building for myself.
In amongst the stacks of boxes and shrink wrapped furniture that will make their way across town tomorrow, is my intention of finally living my life fully on purpose. The reality is I have been coaching people for years, just not formally. As a graduate of Loyola, I returned years later to teach part time in the Film Department. I coached many of my students on the ins and outs of a highly competitive industry. In my production work, I used coaching skills to train my crews and accomplish near impossible tasks. As a healer, working with energy and coaching people toward living a balanced life is woven into each session.
Today's move is not a move back to the past but one of stepping into a future that has been a part of the fabric of my life all along. What Threads of Continuity can you identify in your own life?