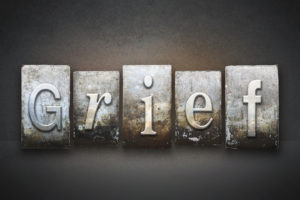 There is no why or why not. If only, we should have, what if. Loss just is. It is:
A part of the natural cycle of things
A reminder we do not have forever – we have this moment
Not greater for some and less for another
Loss is not easier because:
it was anticipated
it was sudden
they had children
they didn't have children
You cannot rate it, compare it and sometimes you can't understand it. Some days you overcome it and other times it is as if you are drowning in it. Recovering from loss and recreating your new normal takes time and the road to recovery is unique for everyone.
There are, however, some common pitfalls you can avoid and some tools and resources you can draw on.
1.  Do not judge your process harshly.  There is no right way to grieve.  However, be observant so you know when you need help if grief related depression or other signs of an inability to cope with the loss show up.
2.  Ask for help.  It is common to isolate particularly as others return to their lives in the weeks and months following.  I remember wandering down grocery store aisles wondering how others could possibly be doing such normal things like filling their shopping carts or laughing at something funny when I could barely breathe.   People in your circle will be happy to step up if you just let them know what you need ~ a dinner invitation to their home, someone to help you clear out closets or go out for a movie or a pedicure, someone to pick your kids up from school or do play dates with.
3.  Plan meals and outings with friends and family.  Be sure particularly to schedule specifically on those days that might be a trigger.  Firsts and significant dates are common sources of big emotional dips.  Design something for anniversarys, birthdays and other significant red circle dates on your calendar.
4.  Be kind to yourself.  Even if financial resources are tight, there are many wonderful community services out there.  Often non-profit organizations offer free programming, support groups and volunteers who provide healing arts sessions such as Reiki.   Students studying hair styling, cosmetology and acupuncture often need practice clients and will perform services for reduced rates or for free.
5.  Get help if you need it.  This is different than #2 ~ ask for help.  Get help means contact a professional if you are falling into deep depression, unable to get out of bed and do simple daily tasks like caring for yourself, eating meals (even if they are small), caring for your children if you are a parent, relying on addictive substances or processes to cope.  Go and see your family doctor, speak to someone at your church, mosque or synagogue or wherever you feel spiritually at home, call a hotline or find resources via online support sites such as OpentoHope.com.
Though you may feel alone on this journey, you are not. There are those of us who have traveled the path before you and those sharing the road to recovery with you now. We are just an email, phone call or text message away and ready to help you find the resources you need when you need them. I did not go through my recovery without significant support so be responsible and take charge of getting what you need.