Eight days after Gary's death, three days after his memorial, I headed off to my next freelance job. I had to. I'd only worked two jobs before this one as a production coordinator and with Gary gone, I had to keep earning a living.
I held it together the first day when I walked in to find a beautiful bouquet of flowers from the production company sitting on my desk. I kept myself busy with hours of tasks – the more I had to do, the easier it was to dampen the constant echo of the phrase that had haunted me from moments after the call from the coroner informing me of Gary's death – 'I am a widow.'
As much as I didn't want to own those words, when the first Friday rolled around and it was time to fill out my time card, I yearned to see the box that said 'widow'. Instead, I was left with 'married' or 'single'. I raised my pen three times. I knew I could no longer check the married box but I was so far from feeling like I was single. For the first time at work, my eyes filled with tears. I froze, pen suspended over paper.
Nearly twenty years later, the memory comes rushing back when I enter the Teatro Colon on a tour of Argentina's National Opera House. As the guide points out the architectural details and shares the history of this beautiful building, she calls our attention to some black metal screens on the floor level down the sides.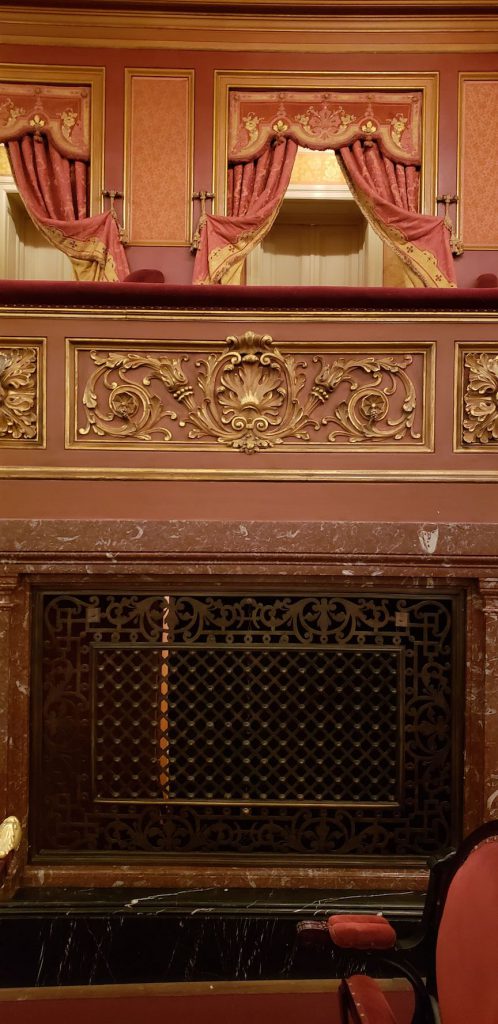 "And the black screened areas you see there are called widow boxes," the guide explained. She went on to tell us how, back in the days when they were building the theater, young widows were not allowed out in public for several years after the death of their husbands. Many were exhiled to their homes, rarely allowed out in public and only with family members as escorts. To provide these young women some relief, the theater was built with eight private rooms, four on each side, screened in for privacy. Widows were escorted in, accompanied by a sister, mother, or other appropriate relative, and kept from prying eyes of the public.
The story made me catch my breath. The only widow boxes I'd had to deal with was the one sometimes found on paperwork and the box I built for myself out of my grief. Otherwise, I was free to come and go as I pleased after Gary died. I could work, drive, travel, or spend time with friends. While I may have felt tied to my grief and my loss, I had far more freedom than the widows who visited the Teatro Colon.
The experience here in Buenos Aires reminded me how, in these times, it is the internal blocks and obstacles we create for ourselves. Grief can cause us to put up walls, to hide away from the world, to disappear into dark boxes. It's natural to want to retreat into our pain…and it is good to have the awareness that when we are ready to break out of those boxes, we have the freedom to do so.
Even today, there are cultures and countries where young widows are held hostage by tradition or religion. Recognizing that most of us can choose when and how we engage in life after loss is an important step. Understanding our alone-ness that we commonly choose after loss is self-imposed creates a crack in the door that we can walk through at any time. When we are ready, more of life awaits us. It took finding my passion for helping others through coaching that gave me the strength and the reason to walk back into the light and create an extraordinary life again on my own. I am grateful for the opportunities and choices available to me and for finding the strength to break out of the box of grief that threatened to smother me for so many years after my loss. I am happy that I am finally free.