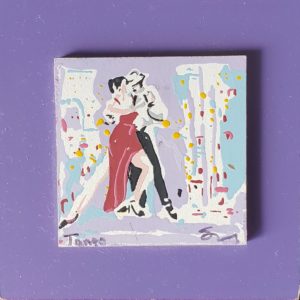 The streets of Buenos Aires, just like life here, are uneven, surprising, and filled with potential pitfalls if one doesn't take care. On any given day, I dodge dog poop, navigate 'floating' tiles that turn into surprise fountains underfoot, and step around small and big gaps where parts of the sidewalk are simply missing.
To survive the streets, it's imperative that you look down. You cannot trust that, as you walk through the city, the ground underneath will be there consistently. You can't trust that tiles won't shift, water won't shoot up and soak feet, or that dog owners will clean up after their beloved pets. So, you have to be responsible and look down. Distraction can lead to a messy shoe, a drenched sneaker, or a twisted ankle…and when you're here to dance Tango, foot and ankle health is a top priority.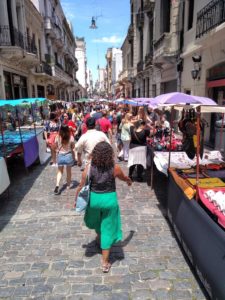 As I rambled through the rocky cobblestones of San Telmo Market a few weeks ago, I followed my walking mantra – stay focused, look down, be careful. When I came upon the miles of artisans' booths, I slowed my pace and took my time so I could look across and meet the eyes and hearts of the locals. I stopped and asked questions in my beginner's Spanish. I put careful thought into what gifts would be perfect matches for a list of family and friends. I gave each vendor time to show me their work. I admired the creativity and care put into jewelry, scarves, and leather goods…all while staying conscious of the ragged path provided by the mixture of old streets and newer ones.
At the end of my morning there, I sought refuge from the nearly 90-degree heat and sun in a café. I retreated to a small table with my iced drink in hand and my backpack full of treasures. As I paused between sips of cold liquid trickling down my throat, I looked up.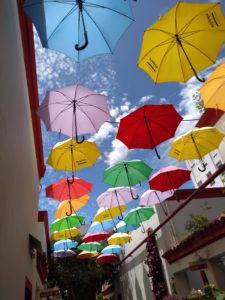 In Buenos Aires, you not only must look down, you also need to look up. The city is not just filled with potholes and potential walking obstacles, it is brimming with beautiful architecture, blooming walls of live green plants trickling down the side of buildings, statues, and art. Things of beauty are all around if you stop and take time to raise your eyes above street level.
As my gaze traveled up to the second floor of the building across the street, I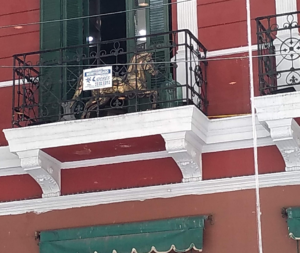 spotted a balcony with a carousel horse perched precariously in the small outdoor space next to a 'for sale' sign. It was an unexpected siting and one that reminded me of the importance of pausing to look up – that life isn't just about surviving – it is about taking time to explore, observe, and notice the art and beauty that we can find in the most unusual places.
Set your course, choose your goals, be mindful of the steps you're taking but also find a way to amble off the most direct route, slow down to meet the gaze of strangers, and breathe in the beauty of the natural world and the art created by our fellow humans. You never know when you might spot your own carousel horse readying itself to leap from balcony to sky.