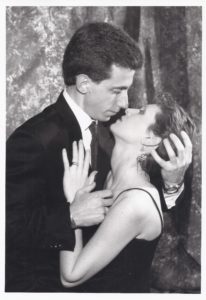 If I close my eyes, I can be there again. Twenty-one years ago. The darkness creeping in, a small Christmas tree on a coffee table, presents stacked to the side. It was a blessing that we didn't know. We didn't know it would be our last one together. The last stockings we'd open, the last Christmas cards we'd write to each other, the last movie we'd see.
If I close my eyes, I can recall the feel of my hand on your forearm as it rested between us in the theatre. I can remember looking up to the arced ceiling that made it feel like we were watching the film under the stars. The Titantic – a love story for all time.
We'd had such a hard time that fall. You'd suffered so much – so much pain, so much fear, such deep exhaustion. It tore at both of us, raking its unforgiving talons across our hearts. But then we'd found our way. The divide between us healed and the soft cocoon that our marriage had so often been was restored.
Gold coins filled with chocolate, a dreidel, a mini menorah, and a children's book about Hanukkah. It was the first night and you were a long way from faith, needing a light in the darkness. Together, we read the story. Me learning. You remembering. There seemed to be something there for you. Just as we'd entwined our lives, our holiday traditions wrapped around each other that night in our favorite inn in Santa Barbara.
We summoned the past that weekend. New Year's Eve when the wind brought down a tree with roots a story high, plunging us into darkness just as we finished our white linen dinner. Like a couple of teenagers, we snuck past the barriers to get back to our room, hastily discarding our clothes, wrapping ourselves around each other. Lunches by the water. Midnight walks along the beach. It felt good to be us again.
If I close my eyes, the relief in my bones and my heart seeps back in. Relief that you looked better. Relief that we could walk the cobblestone streets, sit in cafes, curl up together. Relief that you could breathe. Relief that the embrace of our wedding dance had returned, and we danced through small moments with deep gratitude.
If I close my eyes, the peace and love that filled me – the peace and love that was about to be shattered when you took your last breath months later has returned to my life. You live in the ocean waves that sing me to sleep and the grains of sand beneath my feet and in the strength and fearlessness and courage it has taken to rebuild my life.
If I close my eyes, you are still here.