The Grandmother of Tienda de Cafe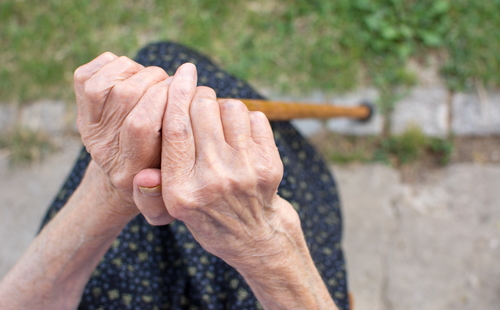 I don't know who she is…but her baristas do. Bent with years of walking through this life weighed down by who knows what, she moves slowly, one foot, one cane, the other foot, the other cane.
I saw her stand to leave the café. She carefully tucked her napkin under her saucer, gathered her things, and turned to the door. I waited. Watching to see if the waiter would notice her taking her leave. He remained braced against the wall, head down looking at today's paper. Still, I waited…and then, as she was inches from the door I got up to dash over and save the day…until the waiter's voice interrupted my intention.
"No, no," he said…followed by an explanation in Spanish. Even though it is early days for me in my Spanish studies, I quickly understood he was telling me that this woman did not want help. She may be old and misshapen by years of hard work, hard life, but she was going to come and go on her terms, opening her own door, taking her leave under her own power.
It is not wrong to want to help. It is also not wrong for someone to want to come and go and live and die on her own terms. We have the right to choose…to ask for help, to accept help, to reject help. The longer she can power her own way in the world, the better her health both mental and physical will be.
I love that the waiter warned me so I didn't overstep. I love that he knows what she needs and was there to intervene. I imagine he may have saved me from a bit of a tongue lashing for presuming she needed help.
Life lived in little moments.