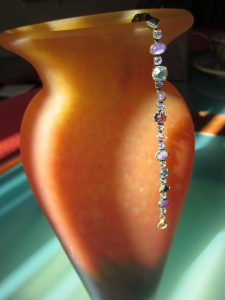 Twenty years on, it still sneaks up on me. Grief. Unannounced. It catches in my throat. It's the moment when I write the date, February 9th, and remember it's his birthday. It's the realization that twenty years ago today, February 14th, he was told the news that his cancer was terminal…and then he got in the car, went to my favorite jewelry store, bought me a bracelet, and came home to celebrate Valentine's Day with me. To celebrate the anniversary of our engagement ten years before.
Twenty years. Twice the number of years that Gary was in my life. And soon, on May 7th, 2021, he will be twenty years gone.
Today, I'm reminded that the loss never leaves. It's not that I don't know this – it's just that it often slips behind the veil of the life I've recreated without him. Not out of choice, but out of necessity.
I know he would be proud of how I took our biggest challenges, our most difficult struggles, and my greatest loss and turned it into a legacy devoted to improving what patients and caregivers go through when the unexpected 'in sickness' knocks on the door. I know for all the happy times I've created on my own without him, he'd be cheering me on. I know he would wish that sometime, somewhere, and somehow I would love again as I loved him.
None of that takes the sting out of the tears or the sadness from my heart because I will, no matter what, always miss him.
Twenty years ago today, he arrived home with roses, a bracelet, and arms full of love, with test results tucked away in his computer bag that he would never share with me. Out of love. He was my fierce protector and until his last breath he did all he could to keep the pain of the grief that would arrive, unannounced. Of all the gifts he gave to me with love, this was the greatest and the most courageous.
Perhaps I should be less surprised than I am that, twenty years later on this Valentine's Day, I still miss him so. It catches me off guard yet it's a small price to pay for the way I loved him…and how I was loved. A very small price.