Part 1 of 2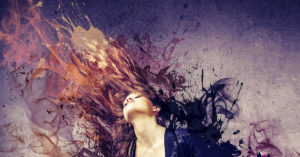 An unexpected connection
The myriad of ways that human beings deal with grief is astounding, inspiring, breathtaking. Somehow, we take the unimaginable and find a way to go on. I love featuring stories of people who have faced difficult challenges and taken actions to work through them.
Navigating through loss and grief is both a personal and a universal journey. We all must find our own way and there are also lessons we learn that can help others who walk down this path after us. Sharing stories, for some of us, is part of our healing process.
Here's a story I want to share with you. I met LuAnna in a slightly unusual way. I received an email from her, sharing with me some of her insights and breakthroughs she generated while working through my online grief recovery course, Grief as a Pathway to Transformation.
Her tale of loss began on March 28th, 2017 when her husband died in a motorcycle accident.
LuAnna's Story
There had been other deaths in my life, but this one was the second one that rocked me to my core. Shane, my husband, was my everything. It was always us against the world. Even though it's been over two years, my memory of that tragic day is still fresh.
Shane's love for me made me a better person. We were truly partners in everything we did which meant, on the day he died, I lost him and I also lost a part of myself. In the beginning, I avoided people, only leaving the house when necessary. Everyday tasks, like shopping, were unbearable. A lot of my energy and time was spent crying, blaming myself, and going over all the couldas, shouldas, and wouldas.
I spent the first two years as a widow going through the motions and trying to make sense of what happened. I knew that if I wanted to truly move forward and invite the possibility of love into my life, I had to become as whole as I could be emotionally. I didn't want to spend the rest of my life alone and I knew Shane would not that for me either. He always wanted the best for me and for me to be happy.
I started counseling sessions and, as part of the process, my counselor recommended I complete the course as part of my healing process. Following her suggestion was the best decision I made.

Working through the program helped me to recognize and deal with triggers. Those difficult moments like being able to be around people, family events, spending the significant dates like our anniversary, the date of his death.
Coaching Tips
Grief can be paralyzing and isolating. In the first part of LuAnna's story, she shares some of the actions she took that helped her begin to move forward.
Honor your feelings. LuAnna assessed what she was feeling and experiencing. When she was ready, she didn't dismiss them. She embraced them.
Take one action. LuAnna recognized she needed support and that isolating wasn't helping her healing process. She found a grief therapist.
Be open to trying something new. Her therapist recommended a resource to her – my online, self-guided grief recovery program. She kept an open mind and experimented with it to see if it was a helpful.
Stay tuned for Part 2 of LuAnna's Story and more lessons learned on how to transform grief and thrive after loss.