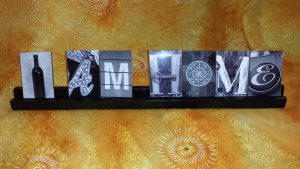 I learned to carry home with me a long time ago. It took time to understand that it nothing to do with geographical coordinates and everything to do with finding my internal place of peace, no matter where I am.
Home, to me now, is a place where I feel safe and loved, even when I'm the only occupant. Knowing I am somewhere I can take care of myself and love who I am being. When we think of home or talk about going back home, it is often referring to the family home. But not everyone feels safe and loved in their family of origin home. Often, life has destroyed the foundation and all that's left is a pile of rubble. We cannot rely on the structure of our childhood to be home forever. At some point, even in loving homes, matriarch and patriarchs leave us.
I've chosen, at different times, to live in different cities…sometimes part time, sometimes full-time. All for different reasons. This year, I moved again. Drawn by the resiliency of the Latin culture to a place where salsa music leaks out into the streets and the clipped sound of English is mostly replaced by the song-like melody of Spanish.
I didn't know until after I arrived how much I want to sit by the ocean and listen to her daily stories. I want to get to know her dark moods and her brightest blue days. I want to sync my heartbeat to the rhythm of her waves and allow my thoughts to ebb and flow. I want to give myself more time in my day and my week and my year to not only work but to live. I want to live among people who find joy amidst great struggle and who, like me, are survivors of one thing or another or many things. No longer willing to wait for the perfect moment to create this life, I relocate myself to find home again.