"How are you?"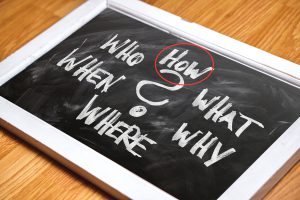 Three simple words. A normal everyday greeting for most. But for those whose world is crumbling, it can trigger the monkey mind into high gear.
I remember this question rendering me speechless in the early days of my loss. The barista at Starbucks or the checker in the grocery store was only being friendly. They expected the normal 'fine thanks, and you' response – and those were the words that came out of my mouth. But inside my head, it was a whole different experience.
It would range from being envious that others were going about a typical day while my life, as I knew it, was over to silent, internal rages of 'I was just widowed…how do you think I am?' My thoughts pinged back and forth through my mind like the silver ball in an arcade game bouncing from flipper to flipper, eventually going down into a dark hole.
I needed to find a way to navigate better in these moments. After all, whether it was a stranger who had no idea of my circumstances or my challenges (nor, did I have any idea of what might be hiding behind their 'great, thanks' response) or a friend, it was simply a normal part of human communication.
What I was struggling for was a way for me to acknowledge to myself that all was not normal without burdening someone else with my deep pain. I wondered; how can I respond in a way that honors what I'm experiencing?
All things considered. That was the phrase that came to mind. All things considered; I'm doing well. I'm fine thanks, all things considered, and you? All things considered paid homage to my grief process and my feelings. It felt more authentic than 'I'm fine'.
That phrase had been tucked away for some time. With the onset of the COVID-19 pandemic, the question we're all asking each other, 'how are you', reminded me of those long-ago times. I'm grateful that I can say, so far, I am well. I want to know how my friends, clients, and teams I work with are doing so I also ask the question.
I've dusted off my old phrase, 'all things considered', as my tag line. It feels important to recognize that it is not business as usual. It is an acknowledgment that we are living in an unprecedented time for which there is no playbook. It honors those on the front lines who are risking their lives to be sure we have food, working utilities, internet, mail, banking, medical care, and more.
There are thousands of people who are driving, delivering, cleaning, stocking shelves, pumping gas, teaching virtually, and trying to save lives. To honor them, please follow the directive of another three-word phrase – Stay At Home. If that's all we can do to be part of the solution to slowing the spread, then let's do it. And, hopefully, we'll get back to being able to answer the question with a simple 'great thanks, and you?' with nothing else to consider.